Surfing offers for Kids
Big fun for small surfers
Our junior surfers can participate in our Kids Surf & Splash Sessions from the age of 6.

A highlight of the Kids Sessions is the splash session before surfing. For our little surfers, this means more time in the water and easier acclimatization to surfing on the wave.

We also offer skate & surf camps, during the holidays, from the age of 9. In addition to surf skate courses and a pizza baking course, the children can immerse themselves into the world of indoor surfing within 4 days!
See all our surf offers for kids below: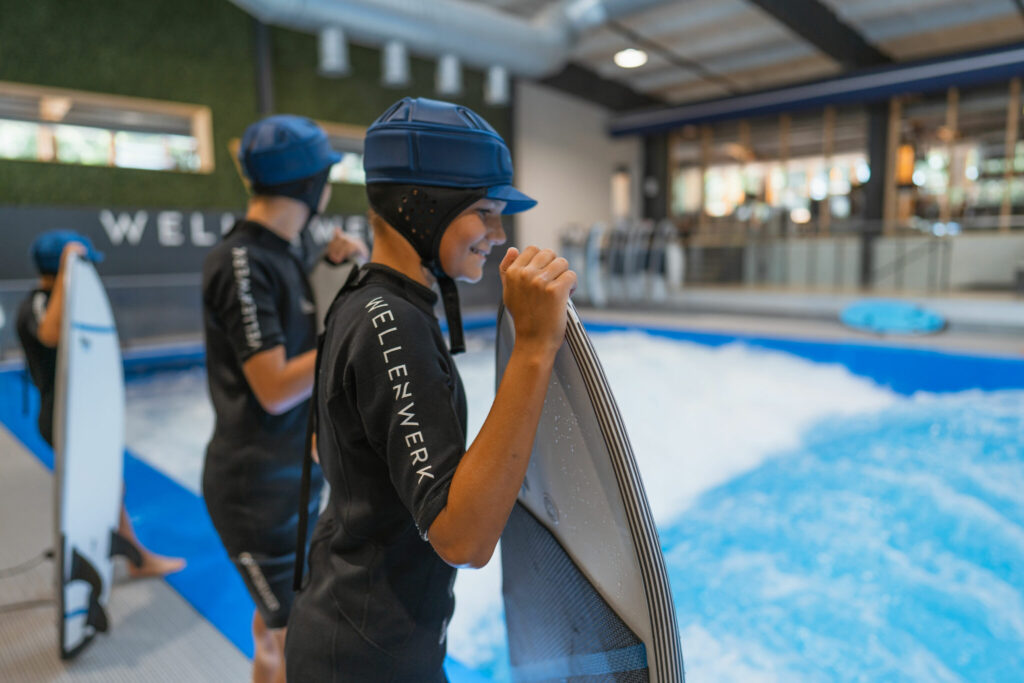 Kids Session
90-minute indoor surfing experience for kids ages 6 and up.
Participation from 6 years / from 30 kg
+ Surf equipment
+ Splash session
+ handrail
+ 1 Surf session (45 min)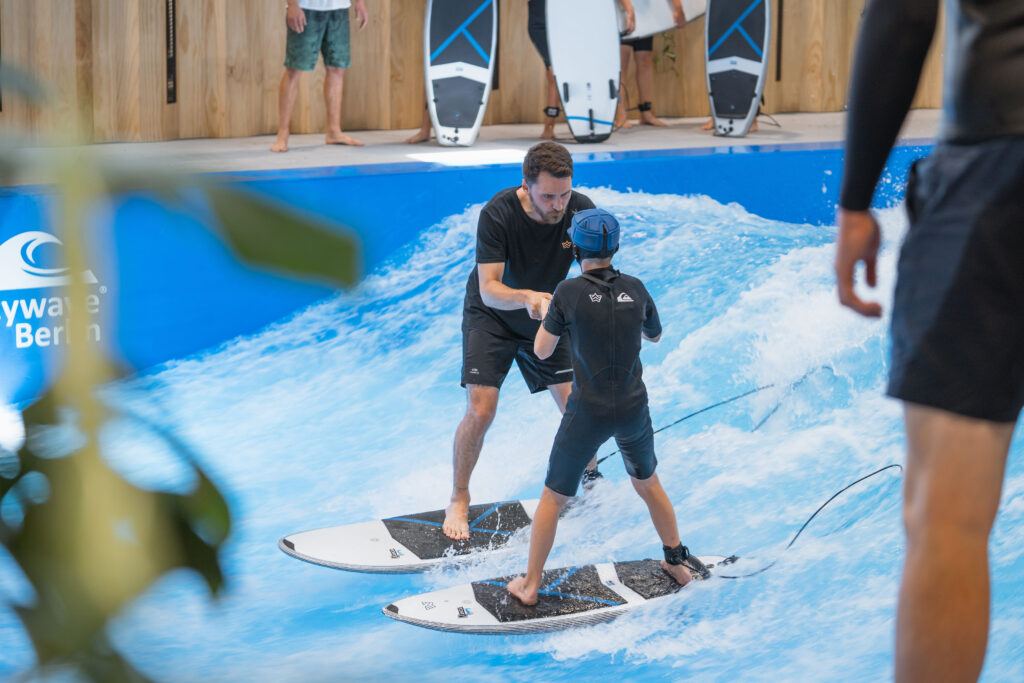 Kids Day 2023
Come surfing and skating all day on January 30th.
Participation from 9 years
+ Surf equipment
+ Surf course
+ Surfskate course
+ Lunch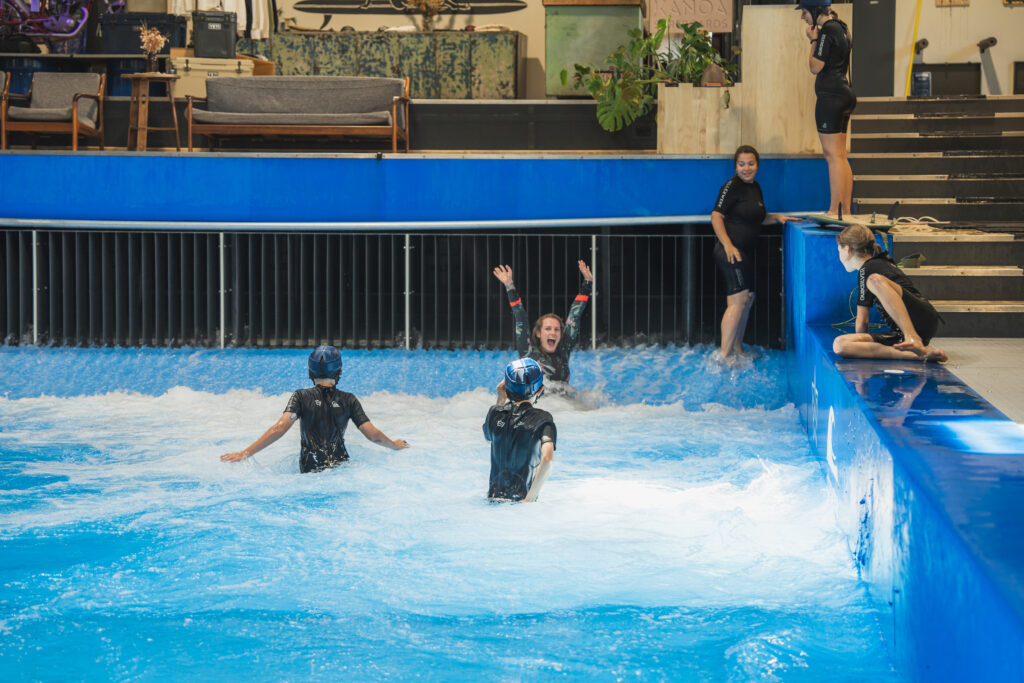 Surf- & Skatecamp (Easter)
4-day surf and skate camp during the holidays.
Participation from 9 years
+ Surf equipment
+ daily surf sessions
+ Surfskate course
+ Pizza-baking course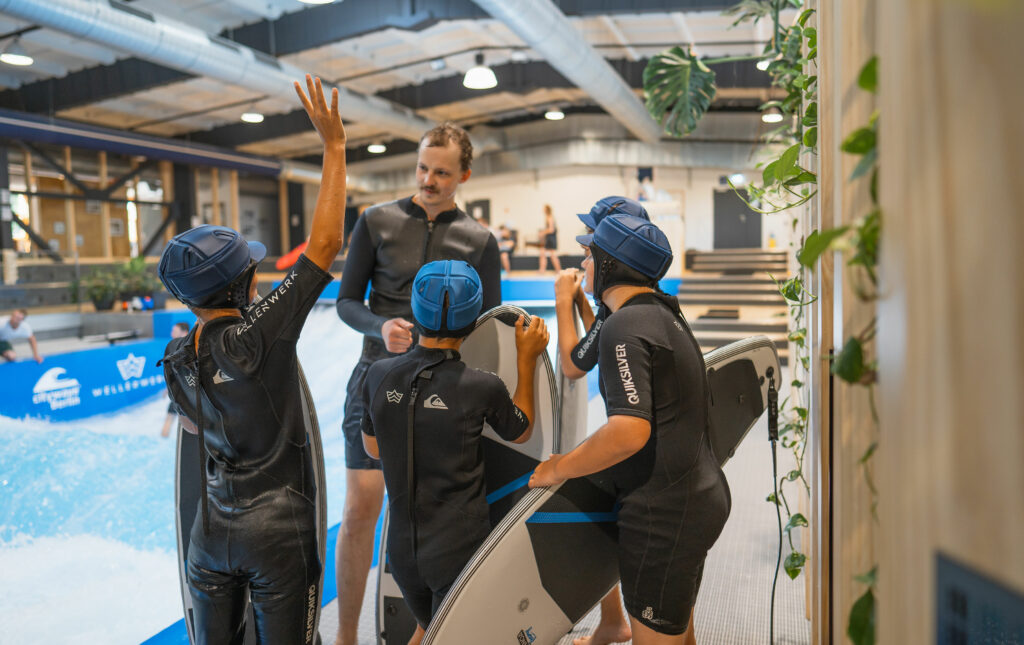 surfing during school holidays
During the school holidays, we offer a very special experience: the surf & skate camp for kids!

Within 4 days, you get to know the full world of surfing. Besides the daily surf sessions, some highlights of the surf camp are, the surf skate course, a graffiti painting course and a pizza baking course!
Between the surf sessions, there is plenty of time for fun and games.

The surf camp is suitable for all surfers between 9 – 16 years and from at least 30 kg. The next camps will take place during the Easter holidays in 2023. For more information about our surf camps, please click here.
Exclusive Birthday session
For the next children's birthday party, you can also rent our wave exclusively. Every Monday, we offer exclusive sessions for kids through our surf calendar.

Before the surf session, all children are equipped with a surfboard, wetsuit and helmet by our surf coaches. After a short briefing, it's time to hit the wave!

Within all Kids Sessions, a holding bar at the beginning of the session enables the first experience of success.

For participation in all kids' sessions, written permission from a parent or guardian is required.