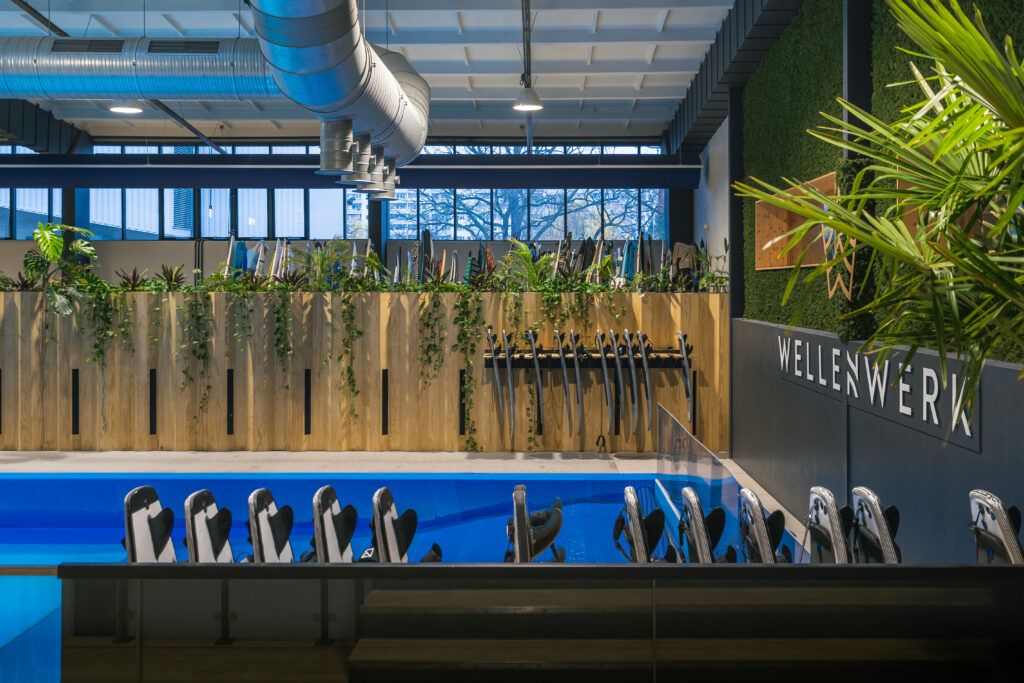 Our artificial wave
sustainable & environmentally friendly
When building Wellenwerk, we put great importance on sustainability and environmental friendliness. Instead of building a completely new structure, an old warehouse of the Berlin waterworks was rebuilt. For the additional extension, in which the restaurant, bar and reception can be found, mainly wood was used, as it is a renewable raw material and can bind CO2 permanently.

In addition, old components of the warehouse were integrated into the new extension and reused. This is how the unique urban charm of the location came about.
We also paid attention to sustainability in the electricity selection. This is why our entire arena is operated with CO2-neutral green electricity, which comes exclusively from hydropower. In addition, a large part of the energy used for the indoor surfing arena is recovered through an innovative heat recovery system, to heat our rooms and the domestic water.

For each bought session, 2€ are being put into our replanting project and used for planting trees in Brandenburg. With the help of all these measures, everyone can "surf in Berlin" with a clear conscience.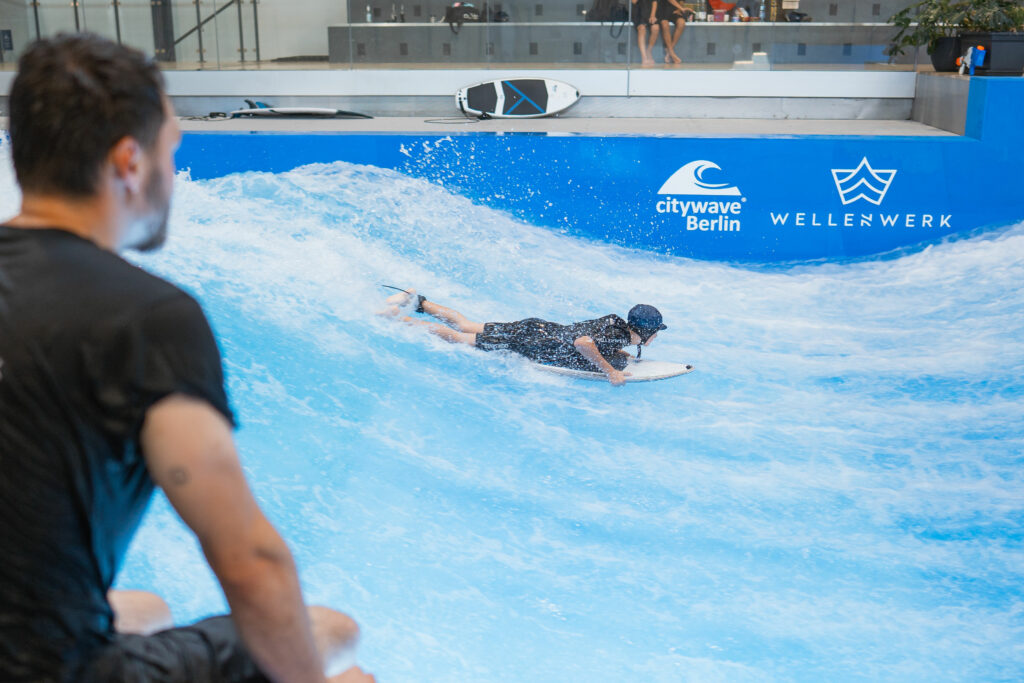 Constant wave
The perfect, endless, standing wave
Nowhere else is it so easy and safe to learn how to surf. Every surf camp in the world wants ideal conditions that a citywave® can create in a safe environment, regardless of external environmental influences.

The flow speed and wave height of our artificial wave can be continuously adjusted to the needs of every surfer and are therefore perfectly suitable for different surfing levels from beginners to professional levels. The surfing facility is weather-independent, offers summer water temperatures of 26 °C and optimal water depths to guarantee an authentic surfing experience with Finns.

The citywave® always has the right pressure and so tricks can be trained under perfect conditions – radical turns, 360 °, jumps and of course take-offs, everything that is also important for surfing in the sea.
Our wave is the perfect playground. For beginners of all ages, but also a first-class training camp for professionals to improve their surfing and prepare for competitions in the sea.