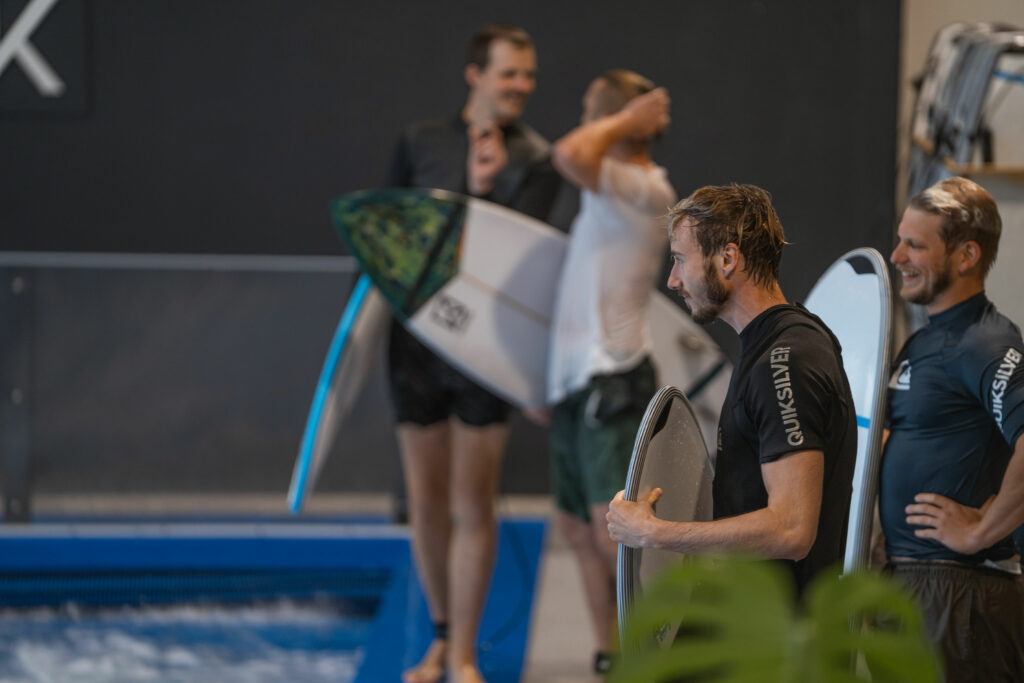 exclusive surf session
Are you looking for a sporty team event with lots of fun and a change from everyday life or do you want to celebrate a very special birthday with your friends?

At Wellenwerk we offer exclusive sessions for every surf level from kids to pro level! Within exclusive sessions, you have the wave all to yourself and can thus individually determine the level and the associated wave height and flow speed. If necessary, a handrail can be attached for additional safety within children's and beginners' sessions.

You will receive the necessary surfing equipment (surfboards, wetsuits and possibly helmets) from our surf coaches, who will be by your side during the sessions and help you get started in the kids & beginners sessions so that you can quickly become surf professionals.

After surfing, you can refresh yourself with a freshly tapped beer at the bar or enjoy many delicious dishes from our restaurant. You always have a perfect view of the wave.

⬇︎ Depending on the level, you can book a session directly via our exclusive surfing calendar. If you are interested in a session outside of the opening times or would like to make a restaurant reservation afterward, please send us an inquiry using the contact form.
BEGINNER
Warm-up
Bookable with handrail for first half hour or without 
Prerequisite: little or no surfing experience on a standing wave
Surfboard and wetsuit is provided
Getting started and support from 2 surf instructors
Wave height: approx. 1.10 meters
Free drink
Videostream after the session
ADVANCED
Warm-up
Prerequisite: already surfing a standing wave. Entry works safely and independently.
Surfing material is provided
Supervision by 1 surf instructor
Wave height: approx. 1.30 meters
Free drink
Videostream after the session
PRO
Warm-up
Prerequisite: safe, independent surfing on a standing wave.
Surf equipment is provided
no support from surf coaches!
Wave height: approx. 1.60 meters
Free drink
Videostream after the session