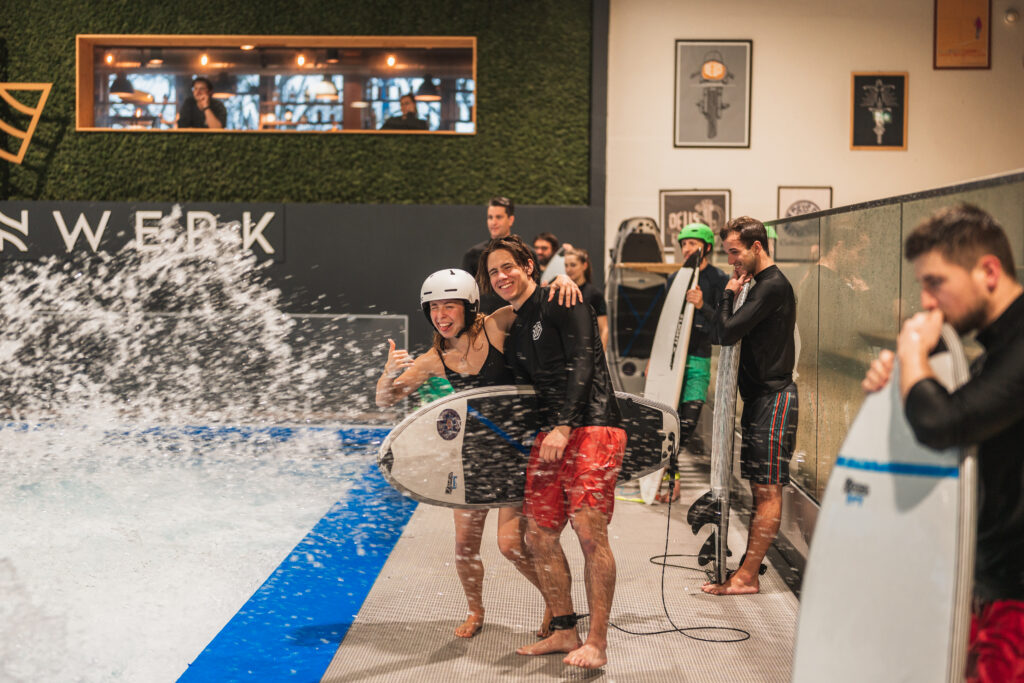 exclusive surf session
Are you looking for a sporty team event with lots of fun and a change from everyday life, or do you want to celebrate a very special birthday with your friends?

We offer exclusive sessions for every surf level, from kids to pro! Within exclusive sessions, you have the wave all to yourself and can thus individually determine the level and the associated wave height and flow speed. If necessary, a handrail can be attached for additional safety within children's and beginners' sessions.

You will receive the necessary surfing equipment (surfboards, wetsuits and possibly helmets) from our surf coaches, who will be by your side during the sessions and help you get started in the kids & beginners sessions so that you can quickly become surf professionals.

⬇︎ You can book an exclusive session directly (14 days in advance). If you are interested in a larger team event, please send us an inquiry using the contact form.
Beginner (SL 1)
Wave: 1.20 meters 🌊
Surf Warm-up & Introduction
with handrail
incl.

surfboard and wetsuit

supervision by two surf coaches
free drink
Prerequisite: no surfing experience on a standing wave
Intermediate (SL 2)
Wave: 1.20 meters 🌊
Surf Warm-up
without handrail
incl.

surfboard and wetsuit

supervision by two surf coaches

free drink

Prerequisite: already surfed on a standing wave / SL 1
Advanced (SL 3)
Wave: 1.40 meters 🌊🌊
Surf Warm-up
incl.

surfboard and wetsuit

supervision by one surf coach

free drink

Prerequisite: already surfed standing waves / SL 2 several times
Pro (SL 4)
Wave: 1.60 meters 🌊🌊🌊🌊
Surf Warm-up
incl.

surfboard and wetsuit

supervision by one surf coach

free drink

Prerequisite: much experience on standing waves / SL 3 surfed
Kids Surflevel
Wave: 1.20 meters 🌊
Minimum 30 kg
Splash Session
incl.

surfboard and wetsuit

supervision by two surf coaches

free drink

Prerequisite: no experience on standing waves