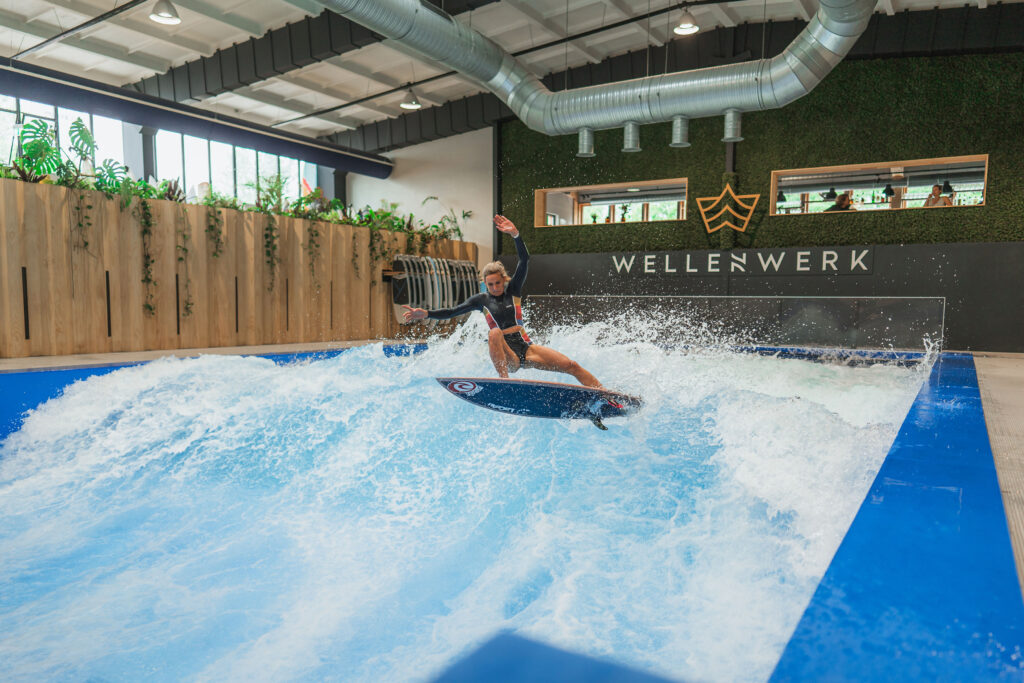 Indoor Surfing at Wellenwerk
Never landlocked again!
When surfing on our artificial indoor wave, the fun factor and unique body feeling are the most important. Not only the wave height but also the flow speed can be individually adapted to the surfers needs. So whether you are an adventurous beginner or a casual pro surfer, everyone gets their money's worth with indoor surfing.

The wave system is independent of the weather, offers warm water temperatures of 26° C and optimal water depth for authentic surfing with Finns. The surfing fun is suitable for all surfers from 10 years of age or from 40 kg and does not require any previous experience. For our little surfers: we offer kids sessions from 6 years / 30 kg.

Dare your first attempts on a surfboard with the surf sessions offered here.
Surf sessions
sessions for beginner, advanced and pro surfers
We offer surf sessions in different levels for beginners, beginners without handrails, advanced – pro, as well as kids sessions for our young surfers.

Within the 1-hour sessions, a small group of up to 12 can surf the wave one after the other. We will provide the necessary equipment, such as surfboards and wetsuits and helmets, if necessary within the surf sessions.

Spectators are always welcome and can enjoy our restaurant and bar menu while watching.

⬇︎ Here you can read more about the different sessions and choose your surf level.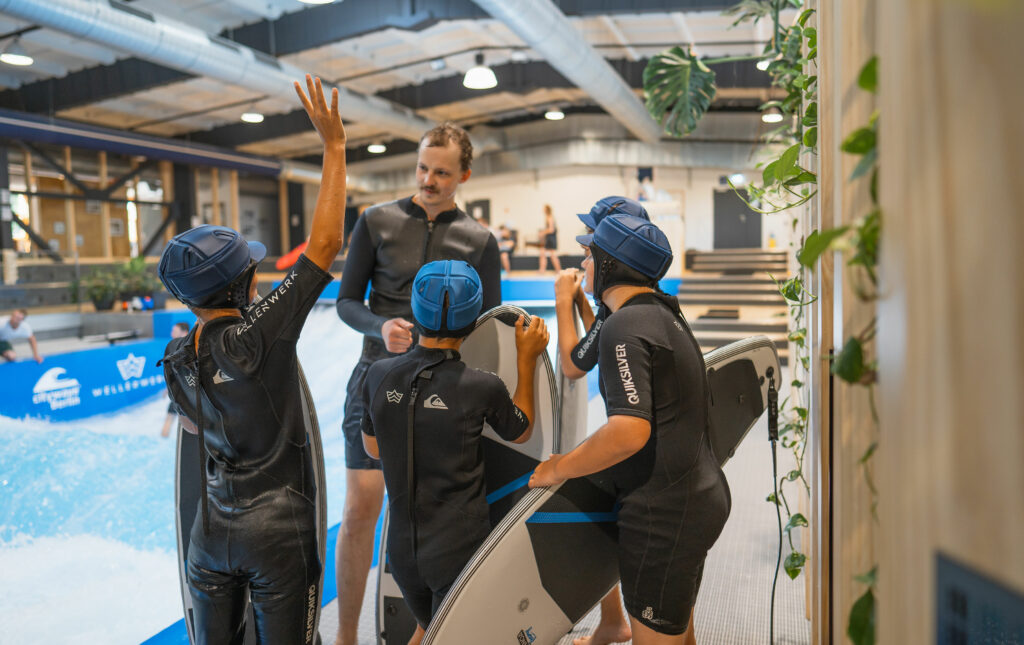 Surfing for kids
for our young surfers
For our young surfers, we offer kids sessions from 6 years / 30 kg in Wellenwerk.

During the 1-hour kids sessions, the children learn to surf initially using a handrail. Two surf coaches are always at the side, giving tips and helping them get on the surfboard and into the wave. The rental of surfboards, wetsuits and helmets is included within the kids surf lesson.

The wave can also be booked and surfed exclusively for the next children's birthday party.

⬇︎ Here you can find out more about our surfing offers for children.
Beginner surf course
We`ll get you on board!
You have never stood on a surfboard, want to get to know the love of surfing or practice for your surf vacation? Then this beginner surf course is the right choice!

Within our surf course for beginners, you will be introduced to the world of surfing step by step. The course lasts 3 hours and includes 2 surf sessions. Between the two surf lessons, you will learn the theory of surfing from our surf coaches and receive important tips. Surfboards & wetsuits and, if necessary, helmets are provided by us.

Thanks to the artificial wave in our indoor surfing arena, you can attend our courses all year round – so you will quickly become a pro.

⬇︎ Here you can find out more about our surf course for starters.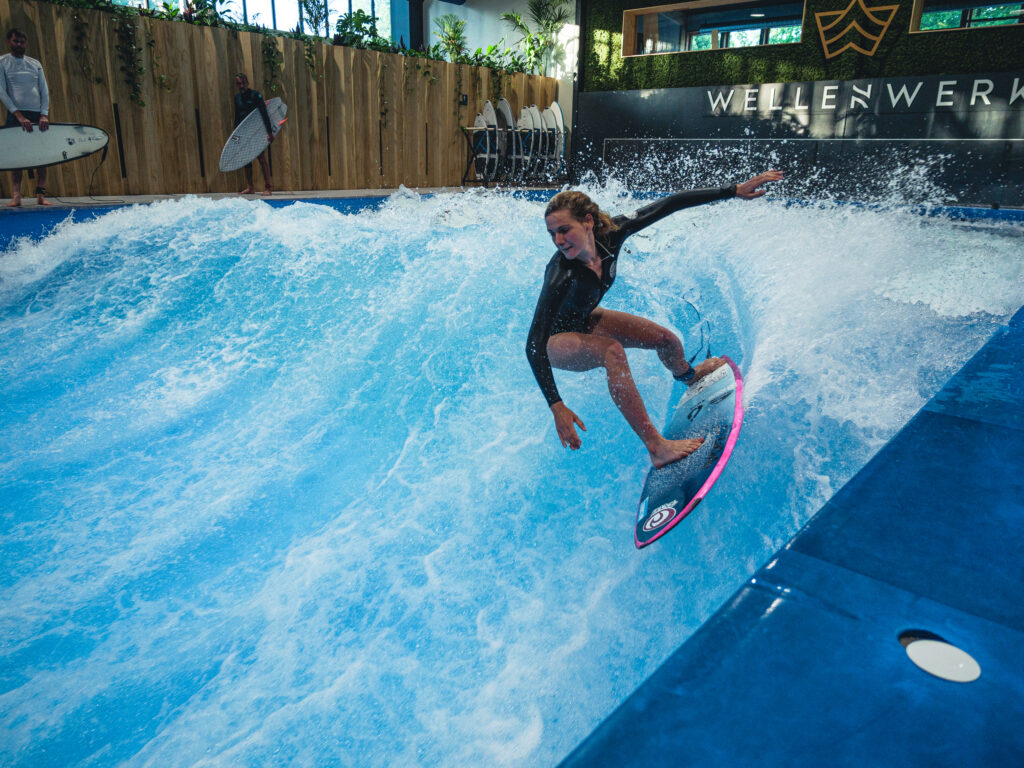 Intensive surf coaching
with Valeska Schneider
For all surfers who have already reached the advanced / pro level and want to improve their technique on standing waves, as well as sea surfing or learn new tricks, an intensive surf coaching is exactly the right choice.

The intensive coaching is led by ISA Surfcoach and German Vice-Champion Valeska Schneider and can be booked by 7 participants. The surf course starts with an hour of theory and dry exercises, followed by an hour of surfing on the wave and a video analysis afterward.

⬇︎ Here you can find more information about Valeska`s coaching.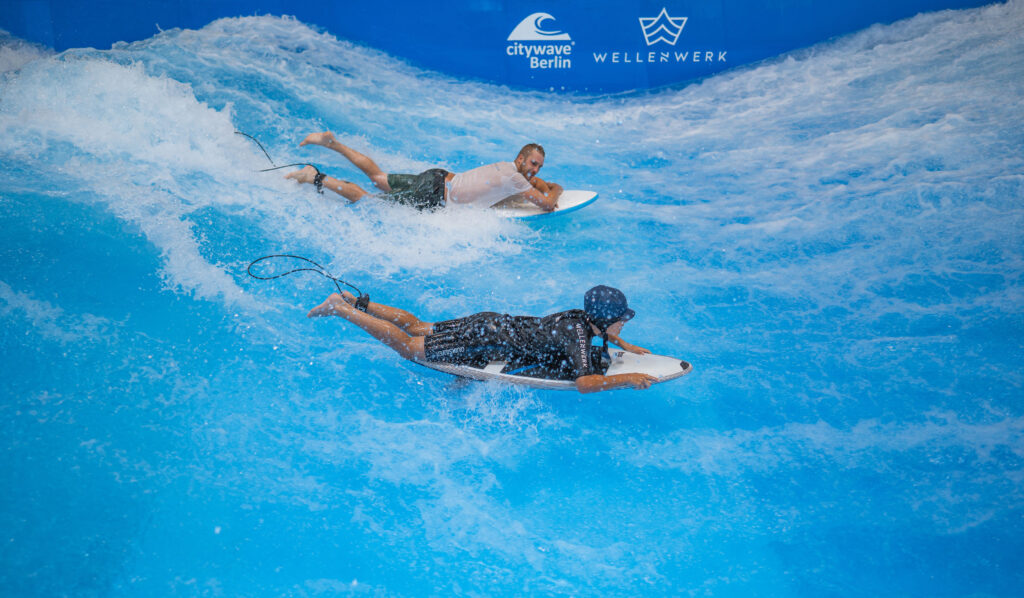 exclusive surfing
if you can`t get enough
Are you looking for a unique experience for you and your friends or for the next team event? With our exclusive session, you can rent the wave just for yourself!

The wave height and flow speed of the wave can be individually adapted to all surfers and are therefore suitable for kids, beginners, advanced and professional surfers. If required, we can also provide a handrail for beginners. Our surf coaches help you individually and are at your side at all times. All equipment is included.

Exclusive sessions should be requested 14 days in advance. Send your request to Surfen@wellenwerk-berlin.de if you are interested in an exclusive session or book directly via our calendar. ⬇︎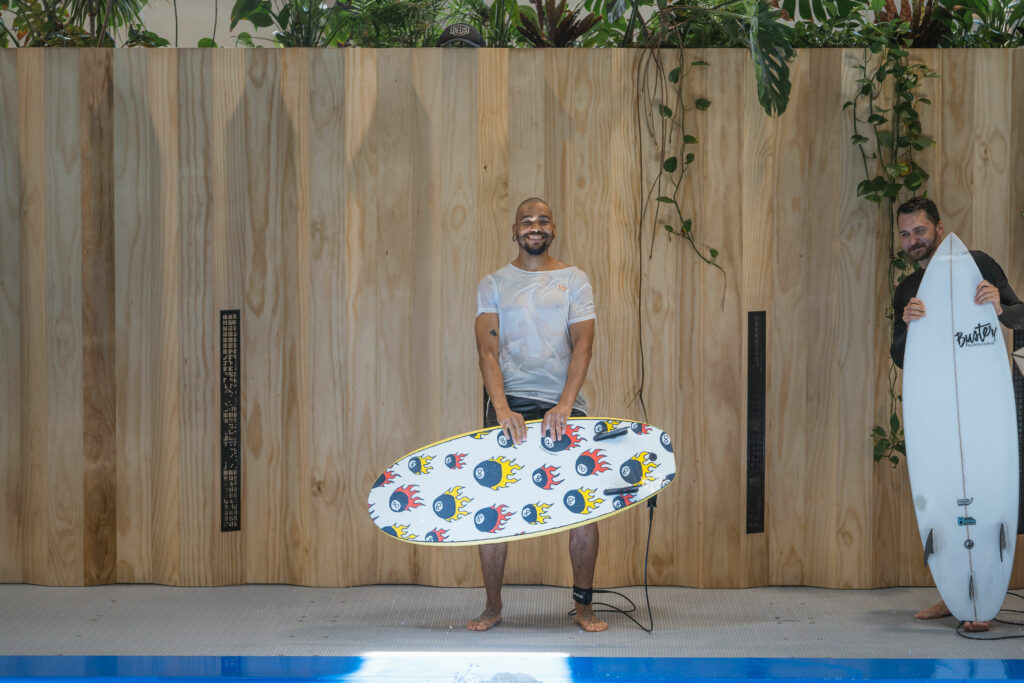 Surf night
3-hour surfing event for all night owls
Are you seeking a fun new surfing experience with music and free drinks? Then come to Surf night!

1.5 hours of surfing the waves to loud music and cool lights. You can hang out afterward with everyone at the bar and enjoy a midnight snack and free drinks until the late hours.

The Surf Night is suitable for all surfers who surf at least advanced level with us – but also for viewers who want to enjoy free drinks and snacks. Check here when the next Night Surf Session will take place. ⬇︎
Beginner Level
Bookable with handrail for first half hour or without
Prerequisite: little or no surfing experience on a standing wave
Surfboard and wetsuit is provided
Getting started and support from 2 surf instructors
Wave height: approx. 1.10 meters
Advanced Level
Prerequisite: already surfing a standing wave. Entry works safely and independently.
Surfing material is provided
Supervision by 1 surf instructor
Wave height: approx. 1.30 meters
Pro Level
Prerequisite: safe, independent surfing on a standing wave.
Surf equipment is provided
no support from surf coaches!
Wave height: approx. 1.60 meters