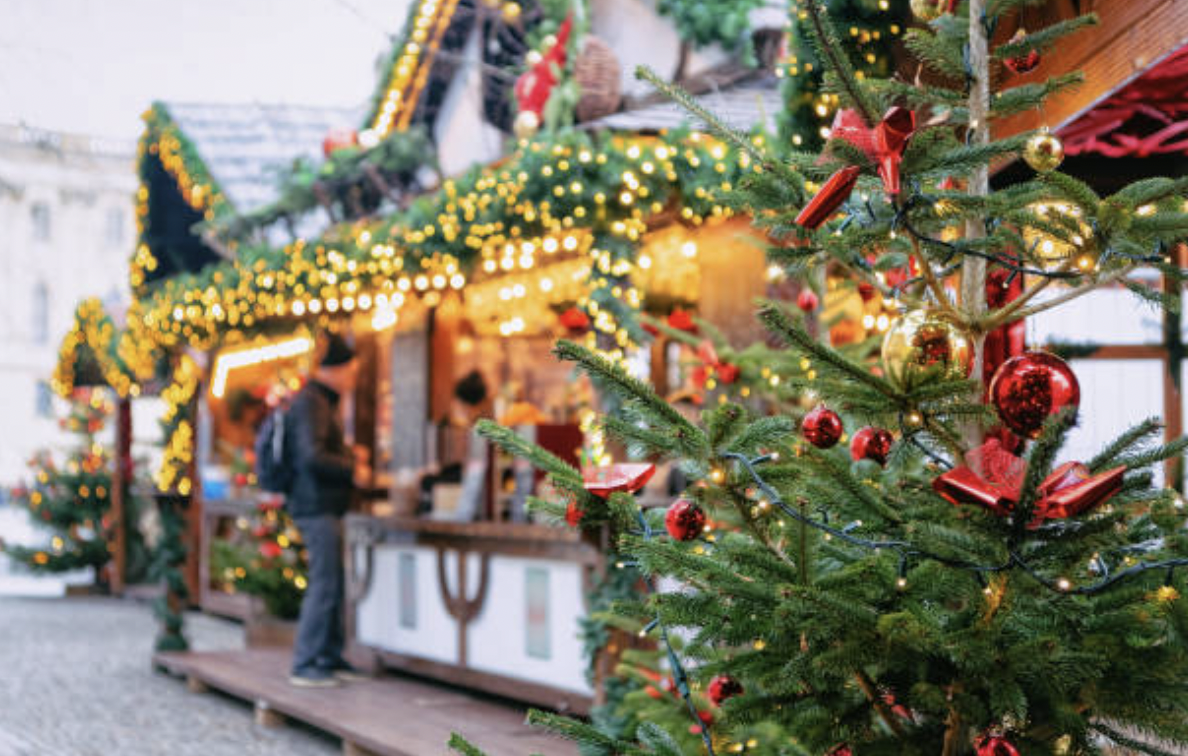 Atmospheric company party in Deus Winterwonderland Berlin!
 
Are you planning your annual Christmas party and want something special that will really get your colleagues into the Christmas spirit?
 
Rent our Winterwonderland in Berlin – your private Christmas market.
 
We offer you a real, individual outdoor alternative to the usual company Christmas party. Instead of going out to eat at the restaurant around the corner, you and your colleagues can stroll through your own little Christmas market, away from the hustle and bustle of Berlin!
 
Rent your private Christmas market in an atmospheric Christmas party for your company, planned from A-Z. Come with your colleagues to the agreed company party simply to us in the Deus Winterwonderland at Wellenwerk Berlin and let yourself be enchanted by our winter magic world.
✔︎ Reliable planning & organization on your desired date
✔︎ Transparent cost overview through fair flat rates
✔︎ Individual and exclusive for your employees
 
The Christmas market set-up for your company party:
 
✔︎ Foodtruck with delicious Christmas menus of your choice
✔︎ Rustic, cozy, warm winter hut
✔︎ Typical Christmas market stalls with treats such as roasted almonds and gingerbread
✔︎ Fire bowl/torches + firewood
✔︎ Mulled wine flat rate
✔︎ stick bread/marshmallows
✔︎ Staff

Optionally, we can also offer you the following specials:

• Indoor surfing
• Set indoor Christmas dinner
• Surf skating
• Cookie baking class
• Fire tongs punch
• Graffiti Workshop
• Yoga classes
 
Our Christmas menus are available for selection:

The food will be served directly from our food trucks
 
1st Contemporary Christmas Menu (3 courses)
Wild tomato salad with burrata and basil cress
Braised veal shank slice on creamy polenta with Lombardy herb and spice mix
Tarte Biscuit with baked almond ice cream and apple ragout
  
classic wine menu (3 courses)
Onion soup with root vegetables and truffle
Breast & leg of goose with red cabbage, chestnuts & bread dumplings
Whiskey apple au gratin with wheat beer sabayon & almond flakes

contemporary finger food
Beef tartar on onion tart with 2 kinds of hazelnut
Seared scallops on celery cream and passe pierre
Marinated avocado with hazelnut tip on tomato fillets

vegetarian finger food
Marinated avocado with hazelnut tip on tomato fillets
Ratatouille gyoza with basil cream and pine nuts
Grilled corn with kaffir lime butter and green chili pepper
 
With these dishes, as well as the smell of mulled wine, roasted almonds and gingerbread, you'll have won the Christmas hearts of all your employees in no time.
 
As a full-service provider for your Christmas party in Berlin, suitable decoration, as well as atmospheric Christmas music, is a matter of course for us and rounds off the winter ambiance!
 
Experience Christmas team moments!
You are planning a team event in a smaller circle? Here you can find all our offers for Teamevents.