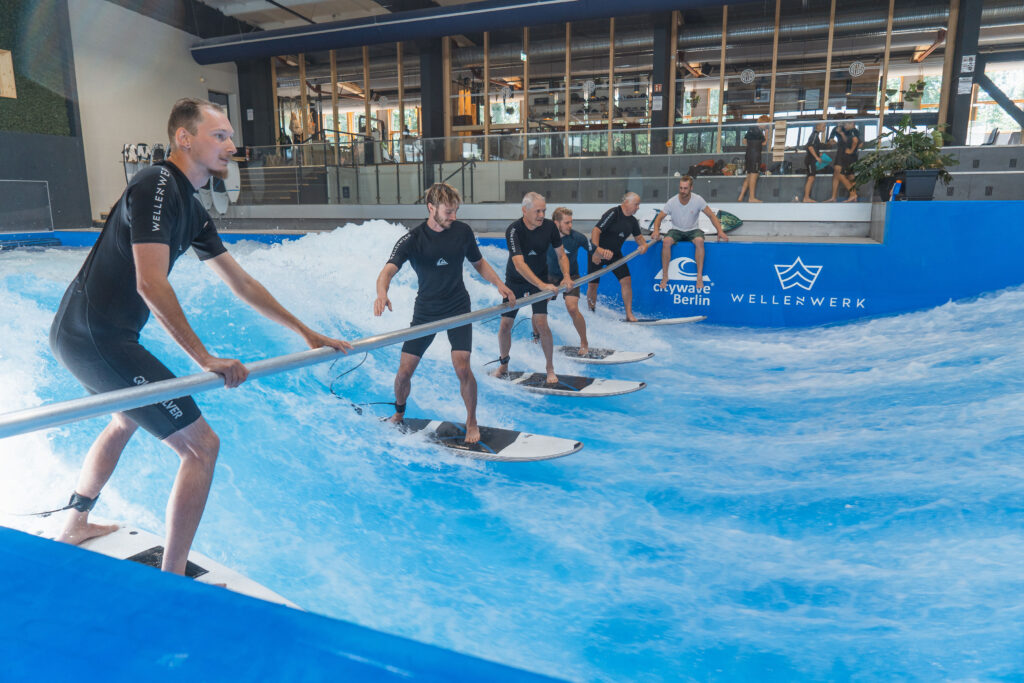 Your Teamevent at Wellenwerk
Are you looking for an unforgettable experience for active team events in Berlin or a team building measure for your company? Our indoor surf arena offers the perfect place for your next team event!

A team building surf session at Wellenwerk offers you an event where you can leave everyday office life behind you and celebrate new successes together. You`ll jump on the surfboards as a team and experience the ultimate surfing experience that will surely be remembered for a long time!

Up to 12 people can surf on our artificial wave per surf session and with the help of our surf instructors at your side, you will quickly achieve joint success. Our indoor surfing arena offers warm water temperatures of 26° degrees and an artificial wave that can be individually adapted to the needs and level of the surfers in order to make quick progress on your boards. This unforgettable team event offers you lots of fun in Berlin and will certainly be remembered for a long time!

If you just want to watch, you can cheer on your colleagues from the pool deck or from the bar with a cool drink in hand! After surfing, our restaurant offers you a nice ambiance with delicious food.

If you are interested, we would be happy to send you an offer.

If you are already looking for a special location for the next summer festival or your Christmas party, you can find out more about our event location here.