Event calendar
Upcoming Events @Deus Fountain
Es sind keine anstehenden Veranstaltungen vorhanden.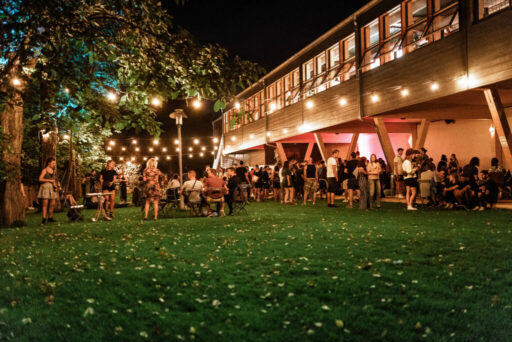 Our Events
Events at Deus & Wellenwerk
In our Deus Temple and Wellenwerk we offer a varied program with numerous in-house events.

Open airs & concerts
From May to October you can come and dance at the Deus Garden on weekends! Here we organize a wide range of open airs with selected Berlin labels.
Concerts are also an important part of the Deus lifestyle. When the weather is good, these will also find their place in our little oasis!

Open air cinema
Those who prefer it more relaxed can come to the outdoor cinema in our garden in summer and enjoy selected films from the world of surfing with popcorn or nachos.

Surf night
Once a month we organize the surf night at the wellenwerk on Saturdays. In addition to cool music and light effects, there are snacks and free drinks at the bar after surfing. If you want to combine partying and surfing, you can come by here at any time to watch.

Are you an organizer yourself and looking for the right event location? Take a look at our extraordinary premises here or send us an email to events@wellenwerk-berlin.de.