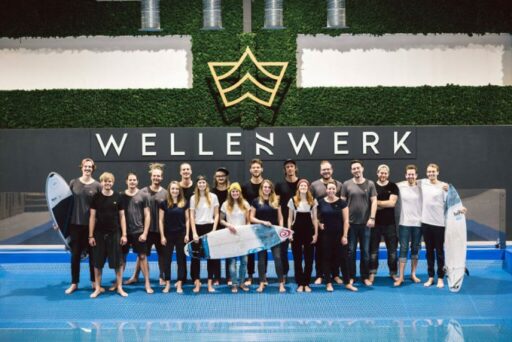 Our Team
Wellenwerk is the idea of seven friends from Berlin. Although they are as different as they could be, they share the same love for surfing, good food & drinks and their hometown Berlin.

Since flying is not the most ecological way to be able to surf, they had the idea to bring the surfer lifestyle to their home and build the first standing wave right in the center of Berlin.

During the last three years, our whole team went through a lot – from planning an ecological building and finding a way to only use green energy to make this wave work, to getting sponsors to be able to continue our work, we did manage to receive a cooperation with a worldwide known label Deus Ex Machina on top of it.

All the trouble was worth it!
The result is an oasis for grown-ups as well as for children.

Our Mission
When building the wave, great importance was attached to sustainability and environmental friendliness. Instead of a completely new building, an old warehouse of Berliner Wasserbetriebe was completely renovated and rebuilt. For the extension, in which the restaurant, bar and reception can be found, wood was predominantly used, as this renewable raw material binds CO2 permanently.

In addition, the entire surf arena is operated with CO2-neutral green electricity from Austria, which comes from hydropower. A large part of the energy used for the wave is recovered through an innovative heat recovery system in order to heat our rooms and the domestic water.

We pride ourselves on welcoming everyone in our unique oasis, this means that we have no space for homophobia, fascism, sexism, racism and hatred within our premises.
Our partnerships
One of our longest partnerships is with wirmachenwelle e.V., who has been involved in social sports projects since 2018 to strengthen the mental and physical health of children and young people through sport and nature.

Donations and further information about wirmachenwelle can be found here.

Are you also an association or a school and would like to work with us? We would be happy to support your surfing plans here at Wellenwerk. Cooperation and surfing inquiries to info@wellenwerk-berlin.de.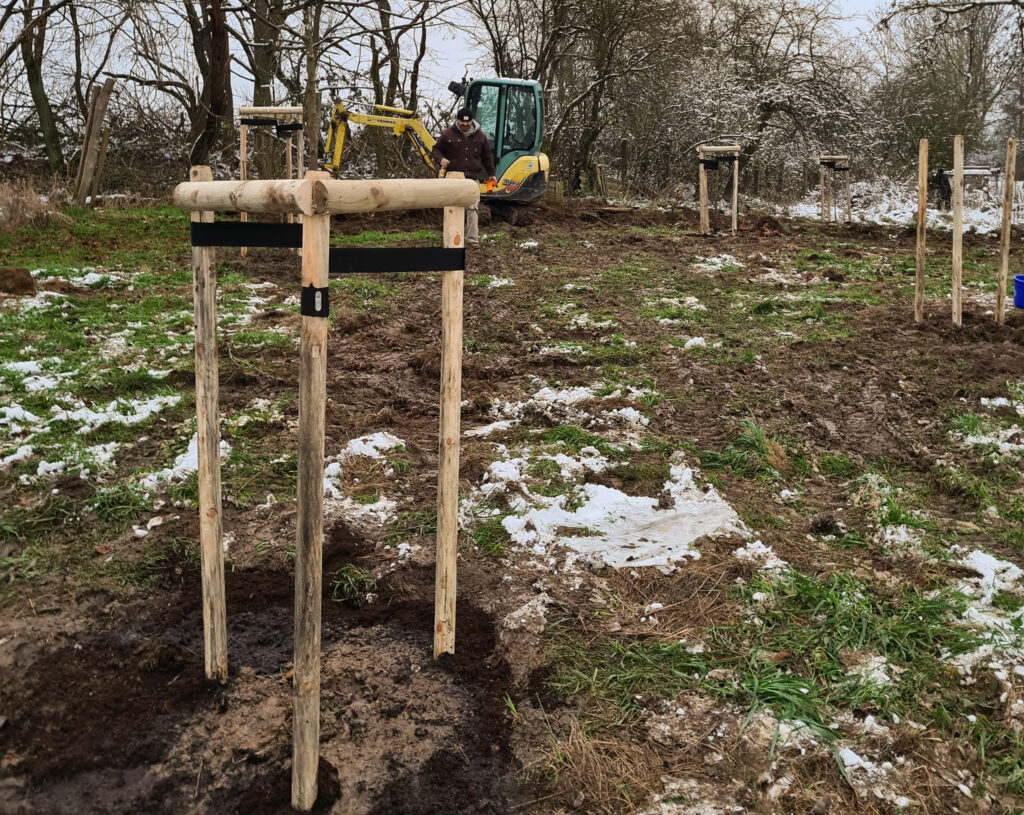 Our tree planting project
In addition to regular donations for tree planting projects in Mexico, we started our own tree planting project in Brandenburg at the end of 2021.

For some time now, we have been planting trees for an orchard on the area of a befriended farmer in the Uckermark, not far from Berlin. The old tree species (mainly old apple species) make it particularly possible for biotopes to be rich in species.

We hope that with your support we can plant many more trees in the future so that we can make our contribution to the preservation of our planet.